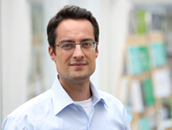 Assistant Professor


Address: National Technical University of Athens,
Heroon Polytechniou 9, 15780 Zografou, Athens, Greece,
School of Mechanical Engineering, Section of Manufacturing
Technology.
Tel.  (+30) 210 772-1799.
email: This email address is being protected from spambots. You need JavaScript enabled to view it. 
Personal Homepage: -

Studies

| | |
| --- | --- |
| 2009 | PhD, School of Mechanical Engineering, NTUA |
| 2001 | Diploma of Mechanical Engineering, School of Mechanical Engineering, NTUA |

Professional Experience

| | |
| --- | --- |
| 2018 - today | Assistant Professor, School of Mechanical Engineering, NTUA |
| 2014 - 2018 | Assistant Professor, Department of Mechanical, Materials and Manufacturing Engineering, University of Nottingham |
| 2014 | Lecturer, Department of Mechanical, Materials and Manufacturing Engineering, University of Nottingham |
| 2009 - 2014 | Senior Researcher, School of Mining and Metallurgical Engineering, NTUA |
| 2009 | Contract Lecturer, School of Mechanical Engineering, NTUA |
| 2006 - 2009 | Technical Consultant, ICAP SA |
| 2003 - 2018 | Freelance Mechanical Engineer |
| 2001 - 2014 | Researcher/ Research Associate, School of Mechanical Engineering, NTUA |

Research
Computer Aided Manufacturing (CAM), Design of Experiments (DoE), Modelling and Optimisation of Manufacturing Processes and Systems, Robotic applications in Manufacturing Processes and Systems, Artificial Intelligence, Machine Learning, Machine Vision, Data Analytics, Industrial Internet of Things (IIoT).

Distinctions

2002, 2003,
2004, 2006
Thomaideio Award for the progress of science and arts

Member of:

Member of the Technical Chamber of Greece. 
Member of the Greek Mechanical and Electrical Engineers Society. 
Associate Fellow of the Higher Education Academy.

Teaches at NTUA
Undergraduate: Machine Tools, Manufacturing Processes A & C, Manufacturing Systems I & II. 
Postgraduate: CAM and applications.