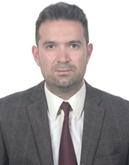 Assistant Professor


Address: National Technical University of Athens,
Heroon Polytechniou 9, 15780 Zografou, Athens, Greece,
School of Mechanical Engineering, Section of Mechanical
Design & Automatic Control, Building Ε. 
Tel.  (+30) 210 772-3681, (+30) 210 772-1542 (lab).
email: This email address is being protected from spambots. You need JavaScript enabled to view it. 
Personal Homepage: http://users.ntua.gr/chasalevris/

Studies

| | |
| --- | --- |
| 2009 | Doctor of Philosophy, Rotordynamics, University of Patras |
| 2004 | Dipl. Mechanical & Aeronautical Engineer, University of Patras |

Professional Experience

| | |
| --- | --- |
| 2018 - today | Assistant Professor, School of Mechanical Engineering, NTUA |
| 2016 | Senior Rotordynamic Engineer – Team Leader & Product Owner (Bearings), Turbine Power Systems, General Electric, UK |
| 2015 | Senior Rotordynamic Engineer & Product Owner (Bearings), Turbine Power Systems, General Electric, UK |
| 2015 | Rotordynamic & Mechanical Integrity Engineer, Industrial Steam Turbines, ALSTOM Power, UK |
| 2013 | Ingenieur Rotordynamik, BorgWarner Turbosystems, Germany |
| 2012 | Postdoctoral Researcher, Technical University Darmstadt, Germany |
| 2010 | Postdoctoral Researcher Alexander von Humboldt, Technical University Darmstadt, Germany |

Research

- Turbomachinery Rotordynamics (Turbines/Turbosystems) with nonlinearities.
- Analytical solutions on the nonlinear design evaluation of Turbosystems.
- Development of controllable/smart fluid film bearings of variable geometry for the vibration suppression and optimized operation in turbomachinery.
- Tribology.
- Analytical Solutions in Design of Journal Bearings (Fluid Mechanics).
- Time-Periodic Systems (nonlinear rotordynamics).
- Fracture Mechanics (Cracked Rotors).
- Diagnostics (Journal Bearing Defects).

Distinctions

| | |
| --- | --- |
| 2017 | General Electric Co. Award '"Beyond and Ahead" |
| 2010 | Research fellowship award for postdoctoral researchers, Alexander Von Humboldt Foundation |
| 2004 | Award from the Technical Chamber of Greece (TEE) for the excellence of studies in Mechanical Engineering |

Member of:
IFToMM (TC Rotordynamics), EUROMECH, ASME, Technical Chamber of Greece.

Current Duties
Academic Advisor of the School at DOATAP.

Teaches at NTUA
Undergraduate: Dynamics and Vibrations, Kinematics and Dynamics of Mechanisms, Dynamics of Rotating Machines.