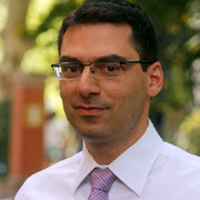 Associate Professor


Address: National Technical University of Athens,
Heroon Polytechniou 9, 15780 Zografou, Athens, Greece,
School of Mechanical Engineering, Section of Industrial
Management and Operational Research, Building E, Office Ε.106, 1st Floor. 
Tel.  (+30) 210 772-3491, (+30) 210 772-3575. 
Fax  (+30) 210 772-. 
email: This email address is being protected from spambots. You need JavaScript enabled to view it. 
Personal Homepage: http://kkir.simor.ntua.gr/

Studies

| | |
| --- | --- |
| 2003 | PhD, National Technical University of Athens |
| 1999 | Diploma (Bachelor + MSc equivalent) in Mechanical Engineering, National Technical University of Athens |

Professional Experience

| | |
| --- | --- |
| 2019 - today | Associate Professor of Project Management and Risk Management, National Technical University of Athens, School of Mechanical Engineering |
| 2018 - 2019 | Associate Professor of Project Management, University of South Australia, School of Natural & Built Environments |
| 2011 - 2017 | Assistant Professor in the scientific area of Project Management, National Technical University of Athens, School of Mechanical Engineering |
| 2007 - 2010 | Assistant Professor in the scientific area of Project Management and Risk Analysis, University of the Aegean, Financial and Management Engineering Dept. |
| 2005 - 2007 | Research and Teaching Associate (PD407/80 Lecturer grade) in the scientific area of Project Management, National Technical University of Athens, School of Mechanical Engineering |
| 2004 - 2007 | Research and Teaching Associate (PD407/80 Lecturer grade) in the scientific area of Project Management and Risk Management, University of the Aegean, Financial and Management Engineering Dept. |
| 2000 - 2007 | Freelance consultant in the field of Industrial and Operations Management |

Distinctions

| | |
| --- | --- |
| 2018 | Emerald Literati Award: Highly commended article (research paper on optimism bias in project management), Emerald Publishing |
| 2018 | Outstanding contribution in Reviewing, Elsevier, Tunnelling and Underground Space Technology journal |
| 2014 | Winner five Minutes Research Thesis (5MRT), Natural & Built Environments Research Colloquium 2014, University of South Australia |
| 2012 - today | Representative of ELOT/Greece at ISO TC258 responsible for the development and maintenance standards related to Project, Programme and Portfolio Management |
| 2008 - 2012 | Representative of ELOT/Greece at ISO TC236 for the development of ISO21500 Project Management Standard |
| 2007 - 2010 | Risk SIG Liaison in Greece. Acts as the link between the Greek members of the Project Management Institute and the Risk SIG-PMI component |
| 2002 | NTUA's fellowship for the fulfilment of the PhD studies |
| 2000 | Award from the Technical Hellenic Chamber, due to outstanding academic performance |

Member of:
Technical Hellenic Chamber, Hellenic Association of Mechanical and Electrical Engineers, Risk SIG PMI - USA, Project Management Institute - USA, PMI-Greece, PMI-Adelaide, Greek Tunneling Society, Hellenic Operational Research Society (HELORS).

Current Duties
Head of Sector of Industrial Management & Operational Research.
Member of the Continuous Education Committee of the NTUA General Assembly.
Member of the Studies Committee of the School of Mechanical Engineering.
Member of the School of Mechanical Engineering General Assembly.

Teaches at NTUA
Undergraduate: Project Management, Risk and business continuity management, Decision Support Systems, Business Game.
Postgraduate: Project & Programme Management, Total Quality Management.