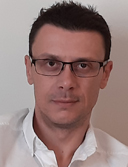 Assistant Professor


Address: National Technical University of Athens,
Heroon Polytechniou 9, 15780 Zografou, Athens, Greece,
School of Mechanical Engineering, Section of Nuclear
Engineering, Building K. 
Tel.  (+30) 210 772-2940.
email: This email address is being protected from spambots. You need JavaScript enabled to view it.
Personal Homepage: -

Studies
| | |
| --- | --- |
| 2009 | PhD, National Technical University of Athens, Greece |
| 2003 | Diploma in Mechanical Engineering, National Technical University of Athens, Greece |

Professional Experience

| | |
| --- | --- |
| 2019 - today | Assistant Professor, National Technical University of Athens |
| 2018 | Nuclear Safety Engineer, Hunterston B Nuclear Power Plant, EDF Energy, UK |
| 2016 - 2018 | Special Scientific Personnel C, Greek Atomic Energy Commission |
| 2011 - 2016 | Special Scientific Personnel D, Greek Atomic Energy Commission |
| 2010 - 2011 | Project contract, Greek Atomic Energy Commission |
| 2010 | Scientific associate, School of Pedagogical and Technological Education (ASPETE) |

Research
Nuclear and radiological safety, phenomenology and impact of nuclear and radiological accidents, protection strategies. Experimental investigation of multiphase flows, rewetting, Critical Heat Flux. CFD/CMFD applications in nuclear safety. Nuclear and radioactive aerosols, numerical computation of particulate flows with phase change (nucleation, condensation, evaporation). Atmospheric dispersion of radioactive aerosols.

Member of:
Hellenic Association for Aerosol Research (HAAR), Technical Chamber of Greece (TEE).

Teaches at NTUA
Undergraduate: Thermal-hydraulic analysis of nuclear power reactors, Environment and radiation. 
Postgraduate: Advanced nuclear reactors, Environmental radioactivity analysis and protection.