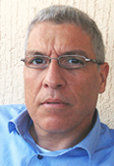 Professor


Address: National Technical University of Athens,
Heroon Polytechniou 9, 15780 Zografou, Athens, Greece,
School of Mechanical Engineering, Section of Manufacturing
Technology. 
Tel.  (+30) 210 772-1457.
email: This email address is being protected from spambots. You need JavaScript enabled to view it.
Personal Homepage: http://users.ntua.gr/vosniak

Studies

| | |
| --- | --- |
| 1991 | Doctor of Philosophy University of Manchester Institute of Science and Technology, Britain |
| 1987 | Master of Science University of Manchester Institute of Science and Technology, Britain |
| 1986 | First degree in Mechanical Engineering,National Technical Univeristy of Athens,Greece |

Professional Experience

| | |
| --- | --- |
| 2015 - today | Professor, National Technical University of Athens, Greece |
| 2010 - 2015 | Associate Professor, National Technical University of Athens, Greece |
| 1999 - 2010 | Assistant Professor, National Technical University of Athens, Greece |
| 1998, 1999 | Mechanical Engineer, Freelance, Greece |
| 1996, 1997 | Research Assistant, Greek Army, Greece |
| 1994, 1995 | Lecturer (grade B) University of Manchester Institute of Science and Technology, Britain |
| 1992, 1993 | Research Project Leader straessle Germany |
| 1991 | Information systems consultant freelance, Britain |
| 1989, 1990 | Research Assistant University of Manchester Institute of Science and Technology, Britain |

Research
Computer-Aided Manufacturing (CAM). Computer numerical control (CNC). Manufacturing systems design and analysis. Computer-Aided Process planning. Rapid Manufacturing Technologies. Artificial intelligence. Virtual Reality.

Distinctions
Editorial Board Member, International Journal of Advanced Manufacturing Technology, International Journal of Machining and Machinability of Materials, International Journal of Mechatronics and Manufacturing Systems.

Member of:
Member of the Technical Chamber of Greece. Member of the Greek Mechanical and Electrical Engineers Society.

Current Duties
Member Innovation Prize Committee of the Mechanical Engineering Department. Deputy Member Undergraduate Courses Syllabus Committee of the Mechanical Engineering Department


Teaches at NTUA
Undergraduate: Machine tools, Manufacturing Systems, Introduction to Mechanical Workshop Technology, Dynamic straining, Computational Methods in Manufacturing Process, Technology of tools and dies.
Postgraduate: CAM and applications.